Dr. Viedra Elison
List All Members | Doctors: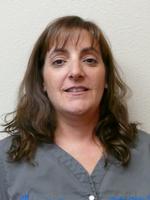 Podiatrist
Fixing Feet PLLC
14823 West Bell Road, #100
Surprise, AZ 85374
Dr. Viedra Elison along with her husband, Dr. Peyman Elison opened Fixing Feet Institute at its current location in 2011 to meet the needs of their expanding practice. Prior to that Dr. Elison practiced with an Associate in Sun City from 1999 to 2002. It 2002 she joined her husband in practice in Surprise. Dr. Elison specializes in Diabetic Feet, Wound Care, and Ingrown Toenails. She is although, proficient in all areas of care for the Lower Leg, Ankle and Foot.
Dr. Elison graduated from Ohio College of Podiatric Medicine in 1997. From there she went on to complete a Primary Podiatric Residency at Hu Hu Kam Hospital in Sacaton, Arizona, which she completed in 1998. Dr. Elison is Board Certified in Podiatry by the American Board of Podiatric Medicine.
Dr. Viedra Elison is a member of the following Organizations
American Academy of Podiatric Practice Management
American College of Foot and Ankle Orthopedics and Medicine
American College of Foot and Ankle Pediatrics
American Podiatric Medical Association
Arizona Podiatric Medical Association
American Professional Wound Care Association
Academy of Physicians in Wound Healing
Dr. Viedra Elison and her husband, Dr. Peyman Elison have four lively children, Zoe, Abbie, Sophie and Ari. She enjoys spending time with her family as well as traveling.
"Everybody needs to feel good. We try to make you smile and leave happy!"
- Viedra V, Elison, DPM